---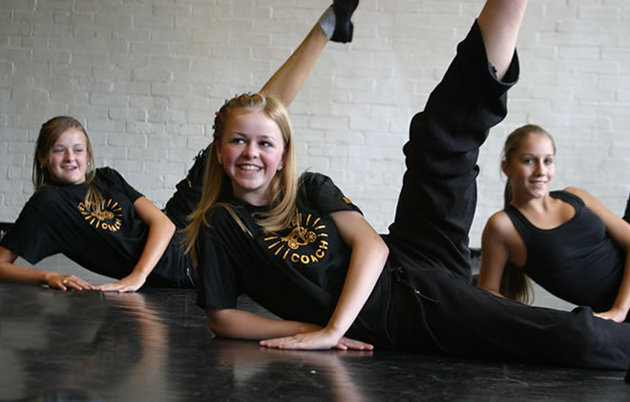 Dance, drama & singing - discover the magic of the performing arts
Dance is an excellent form of creative self-expression, stimulating the mind and the imagination. It is a joyful activity that lifts the spirit. For this reason children's dance classes are a vital part of Stagecoach's curriculum and all students in the main schools take an hour's dance class each week.
Many kids dance classes stand alone and this is a viable activity in its own right. In fact many young students attend a kids dance class in addition to Stagecoach. This is recommended if a child has ambitions for a career in dance. However, for a career in musical theatre the other elements of acting and singing are an essential part of a child's training. Stagecoach fulfils this requirement to the letter.
Youngsters can enroll at Stagecoach from the age of 4. At this age they join an "Early Stages" class. This provides 30 minutes of children's dance classes as well as 60 minutes of drama and singing. Starting at this early age is hugely beneficial and is one of the reasons why Stagecoach Early Stages classes are so well supported throughout the world.
Children benefit from a Kids Dance Class because:
It engenders self-control, giving students a vital discipline for life
It gives a sense of self-worth and achievement
It encourages good posture, balance, co-ordination and spatial awareness
It strengthens the heart muscles, aids good circulation and enhances muscle tone
It exposes students to music, so developing musicality, a general awareness of music and a breath of repertoire for dance
It encourages good team work, developing emotional and physical sensitivity towards others.
It encourages students to feel at home in, and comfortable with their own bodies.
It is an excellent form of exercise and it is FUN!
It is not surprising therefore that kids dance classes are so popular and well attended throughout the world.
Further more it is refreshing to recognize that, more and more, boys are electing to dance. The advent of street dance and break dancing has made it acceptable for young boys to indulge in a form of dance and the film Billy Elliot has justified boys learning ballet. It is also encouraging to see that more and more kids dance classes are being set up especially for boys. Stagecoach dance lessons do not typically include ballet or tap but aside from these a varied program of dance styles are included in the year's work. In addition to modern jazz and street dance, students attempt dance from other nationalities as well as styles from years gone by. In addition time is spent inviting students' own creative experimentation.
Children's dance classes provide a stimulating and enjoyable extra-curricular activity. Combined with classes in acting and singing a child can reap a rich and lasting benefit. Stagecoach - Training for Life