About Us - Performing Arts
---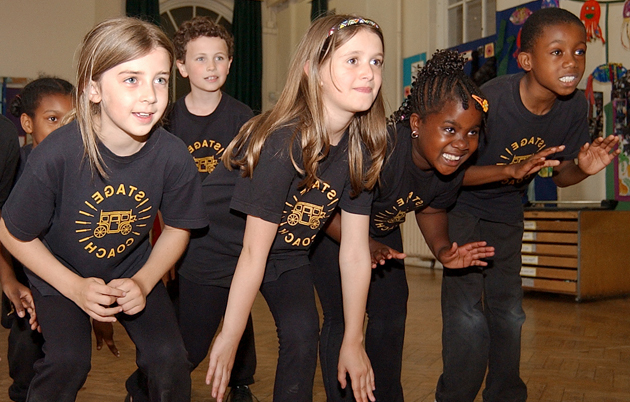 Dance, drama & singing - discover the magic of the performing arts
Dance is an excellent form of creative self-expression, stimulating the mind and the imagination. It is a joyful activity that lifts the spirit. For this reason children's dance classes are a vital part of Stagecoach's curriculum and all students in the main schools take an hour's dance class each week.
Drama is an all encompassing element of the performance arts and the cornerstone of the actor and musical theatre performer. Drama lessons and drama classes are the gateway to learning the varied skills required to become a versatile actor.
Singing classes take place for one hour during a three-hour session at Stagecoach Theatre Arts. Children are taught to breath correctly, warm up their voice sufficiently through a variety of 'fun' vocal exercises, and then undertake to learn a wide, age-appropriate repertoire of songs. Care is taken to explore lyrics and appreciate the inter-relationship between words and music.
Gain confidence, stretch imagination, learn skills and HAVE FUN
Stagecoach is for young people ages six to eighteen, although entry to the schools stops at age 16. It operates for three hours each week during the normal school year, but outside school hours. Youngsters gain confidence and self-esteem and learn to express themselves creatively and effectively. These skills, acquired while learning the skills of performance, do not disappear when they come off stage, they are skills for life.
Stagecoach is not just for performers, it is also for those who wish simply to enjoy learning to act, sing and dance. The Stagecoach ethos is to enable children to grow, gradually and at their own speed, into effective human beings. At the same time our caring and talented teachers and principals make sure they keep their feet firmly on the ground.
Fun is an essential element of any program and Stagecoach has learned one truth over many years. Children love to achieve and they like to do so in a disciplined environment. At Stagecoach we don't set out to create fun, the students do that for themselves.
Stagecoach - Where Youngsters Learn Skills for Life